Therapeutic Touch Professional Associates
Serving Seattle and the Puget Sound Area
The Therapeutic Touch Professional Associates (TTPA) organization is a 501(C)(3) non-profit organization. TTPA is a satellite chapter of Therapeutic Touch International (TTI), Inc. TTI establishes the guidelines for the teaching and practice of Krieger and Kunz Therapeutic Touch (KKTT). Dolores Krieger PhD, RN, Professor Emeritus New York University one of the founders, is an advisor to TTI.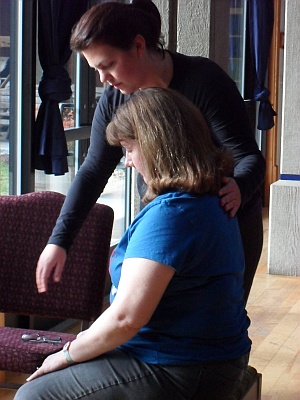 Our purpose is to enlarge and advance the knowledge and understanding of Therapeutic Touch in the Puget Sound region.
Our goals are:
To promote the excellence of the practice of the Krieger/Kunz model in the Puget Sound region.
To provide an information link for the clinical practice of Therapeutic Touch.
To contribute to the development and sharing of research on Therapeutic Touch.
TTPA provides the following services:
Information about classes, practitioners, teachers, and research in the Puget Sound area.
Opportunities for ongoing practice for students of Therapeutic Touch. We currently have six support groups. (See the TTPA newsletter for leader names and phone #'s.)
We are a resource for integrating Therapeutic Touch into any health care setting.
---
Contacting TTPA
Contact TTPA for assistance in locating teachers, seminar leaders, inservice presenters, and practitioners.
---
Joining TTPA
Membership is open to anyone who has completed a Basic Level Therapeutic Touch (Krieger/Kunz Model) class by an approved teacher. If you have any questions about this requirement, please send them to us here. Our annual dues are $30.00 (US), payable in January. The TTPA new member application form is located here.
---
Paying TTPA Membership Dues
If you are already a TTPA member, you can pay your annual dues online here.
---
What is Therapeutic Touch?
Therapeutic Touch involves conscious intent on the part of the practitioner to help promote balance, rhythm and energy. Practitioners move their hands about two to four inches away from the body while a person is seated or lying down for a treatment. Assessment of the energies allows practitioners to more effectively individualize the treatment.
It is believed that a person's own healing potential may be enhanced by this elegant and graceful process. The most commonly reported effects are relaxation and a profound sense of well-being.
Therapeutic Touch helps ...
reduce anxiety
reduce pain
enhance relaxation response
decrease diastolic blood pressure
facilitate wound healing
When did Therapeutic Touch begin?
| | | |
| --- | --- | --- |
| Dolores Krieger | | Dora Kunz |
Therapeutic Touch was developed in the early 1970's by Dolores Krieger, PhD, RN, Professor of Nursing, Emerita, New York University, and Dora Kunz. It is based on the belief that a human being is a complex system of energies; disease may occur when there is congestion, depletion, and/or imbalance of energy. A Therapeutic Touch treatment is administered with the intent to help a person re-pattern energy to facilitate healing.
Therapeutic Touch was founded within nursing science in 1972. Research continues in major medical centers and universities. No guarantee of results can be made. Therapeutic Touch may be used as an adjunct to other health care practices.